NRCME Plus Examiner Training
System™ Curriculum
Our training system meets or exceeds FMCSA 8 curriculum topics regarding regulations and guidelines for conducting CMV driver medical examinations. FMCSA regulations and guidelines are reviewed regularly and our training system is updated accordingly.
How to Complete
the Course
Review each module, then take the corresponding quiz. After you've completed all modules and quizzes, you'll take the Post-Test, claim your credits, complete the evaluation, and print your Certificate of Completion.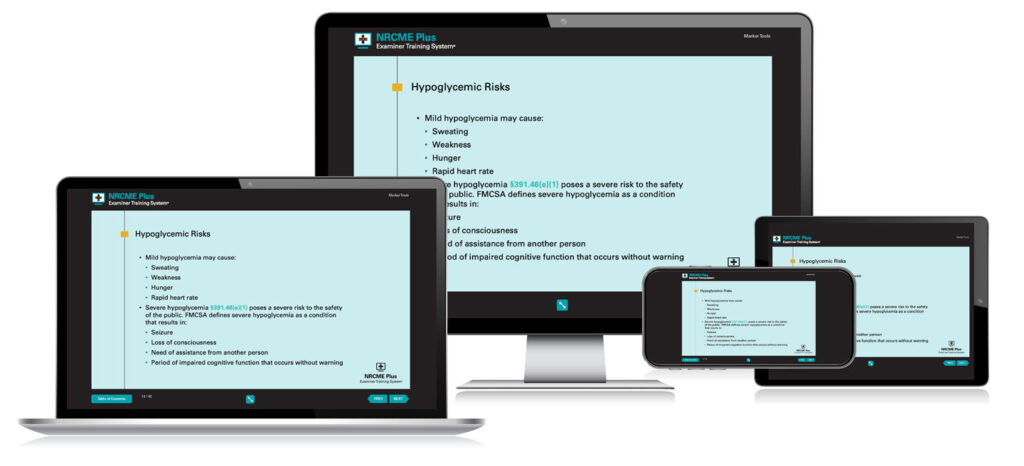 Here's an overview of the course curriculum and bonus content:
| | |
| --- | --- |
| Pre-Test | Assess your knowledge before beginning training |
| Quiz | Follows each module covering key concepts |
| Post-Test | After completing your final module, take our NRCME Plus Post-Test to prepare for the National Registry certification exam |
Module Overview
Introduction to Training
Module 15: Congenital Heart Disease
Module 1: DOT Primer
Module 16: Valvular Heart Disease
Module 2: Background & Structure
Module 17: Heart Transplant
Module 3: FMCSA Definitions & Regulations
Module 18: Vascular Disease
Module 4: The CMV Driver & Public Safety
Module 19: Non-CHD Cardiovascular Diseases
Module 5: Diabetes Mellitus
Module 20: Pulmonary Conditions

Module 6: Hearing
Module 21: Musculoskeletal
Module 7: Vision
Module 22: Mental Health
Module 8: Hypertension
Module 23: Substance Abuse
Module 9: Neurological Introduction
Module 24: Other Diseases & Disorders
Module 10: Progressive Neurological Disorders
Module 25: Medication Rules
Module 11: Episodic Neurological Disorders
Module 26: Driver Medications
Module 12: Cardiovascular Disease Introduction
Module 27: CMV Physical Examination
Module 13: Coronary Heart Disease
Module 28: Case Studies
Module 14: Arrythmias
| | |
| --- | --- |
| BONUS! | Q&A Deck with 500+ sample exam questions |
| BONUS! | Online Resource Library with expert panel guidelines, FMCSA forms, waiver packets and sample templates for your practice |
Our training system is the only program to offer an Online Resource Library with valuable information to support and supplement your training. It serves as a continuing reference and includes PDF documents you can save or print as needed.
Here's what you'll find:
Expert panel guidelines
FMCSA forms, waiver packets, and sample templates
NRCME Plus National Registry Study Guide – regularly updated with feedback from medical examiners who have already passed the exam
Take exam prep to the next level with NRCME Plus' series of 500+ practice questions.
Real-time grading reinforces mastery of the material, allowing you to quickly identify areas that require further study. Gain confidence in your ability to pass the FMCSA medical examiner certification test with the most complete, detailed Q&A available.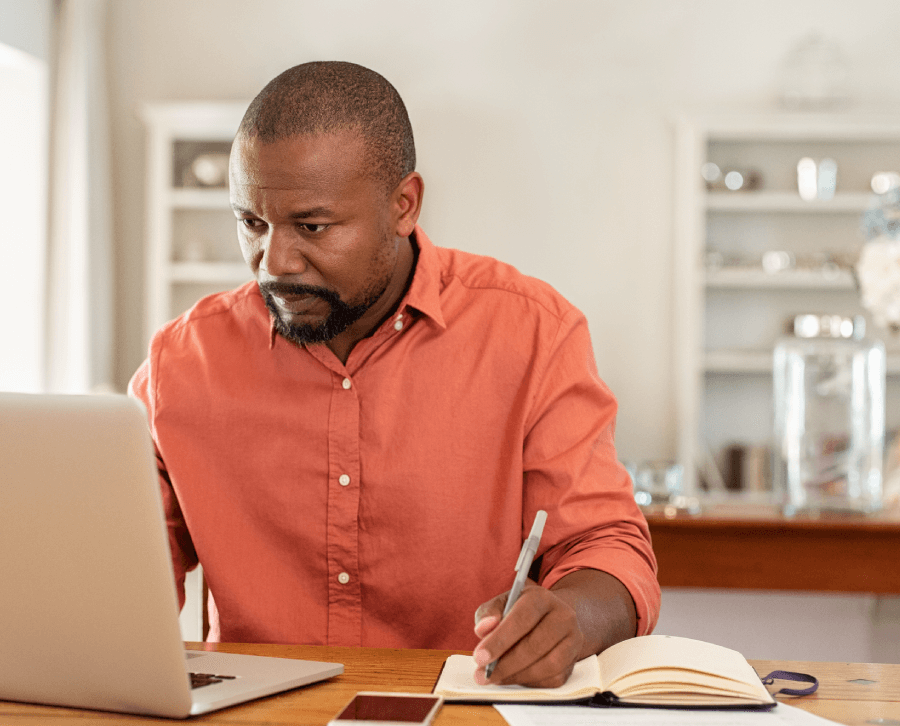 Upon completion of our training system, you will be able to:
Apply FMCSA driver physical qualification regulations and advisory criteria to pass the FMCSA certification test for the NRCME
Apply FMCSA driver physical qualification regulations and advisory criteria when examining CMV drivers and determining medical certification
Acquire specific guidance and understand sources of information for questions on CMV examinations and required documentation for these exams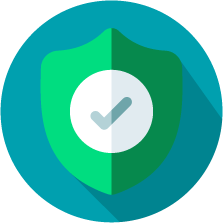 Pass your exam the first time - Guaranteed
With the help of the NRCME Plus Training System, 95% of past users passed their FMCSA ME certification test on the first try. We're so confident it will work for you, we guarantee it. If you don't, we'll credit the full amount of your purchase. See Terms of Service for details.
NRCME Plus Examiner Training System™ is designed to serve the entire continuum of clinicians and healthcare providers seeking medical examiner training. We have been awarded accreditation in multiple provider categories including ACCME and PACE. Accreditation is included with training registration and there are no additional fees to claim credit.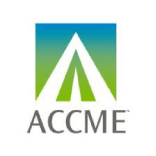 Accreditation Council for Continuing Medical Education (ACCME)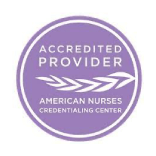 American Nurses Credentialing Center's Commission (ANCC)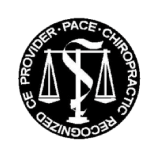 Providers of Approved Continuing Education (PACE)

Medical doctors, doctors of osteopath, doctors of chiropractic, physician assistants, nurse practitioners, and advanced practice nurses who are specifically interested in performing CMV driver physical exams and obtaining NRCME certification.
Special Prerequisites for Participants
Participants must be licensed MD, DO, DC, NP/APN, or PA in their respective state and whose scope of practice authorized them to perform physical examinations and issue medical certificates for commercial motor vehicle (CMV) drivers, as defined by the state in which they practice.